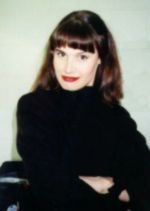 Host. Actor. Comedian. Renaissance Woman.

The Past. The Loft. The Rest.

The Past: Kim attended school in Brisbane, was educated in Sydney, and studied at the Victorian College of the Arts, Melbourne. If she'd followed her migratory pattern to it's logical conclusion, her next move would have been to Adelaide. However, the logic behind living in Adelaide completely evaded her. Surprisingly, Kim found the V.C.A. School of Drama experience nothing like the move FAME, although often, when she performed, people would see her and cry. After graduating, Kim appalled many of her friends, not with her acting, but by relinquishing a successful and lucrative career as a waiter, in order to persue the glamorous life of a stand-up comedian.

The Loft: Kim's first appearance on the Loft was in series 1, ep. 4 (a.k.a the John Brumby episode.) It was her energetic stand-up routine and extraordinary networking skills that saw her replace Duff as sidekick for series 2, become co-host in series 3, and eagerly leap into the role of host for series 4, whenever Rove is 'tied up', too busy or can't be bothered.

The Rest: Apart from appearing weekly (and sometimes 'weakly') on the Loft, Kim has been, as Rove would say, 'as busy as a busy bee at a busybee's busybee.' She was in 4 comedy festival shows this year, including the Stella Artois Award - winning Miss Itchy's Creme de Menthe Breakfast Show, has appeared on Good News Week and Good News Weekend, and has upcoming roles on State Coroner and Totally Full Frontal. But the Loft remains the highlight of her career to date. Oh, and ice-skating with Shane Paxton.
Ged Wood - Presenter of The Loft's science and technology segment is definitly no expert. In fact he rarely knows what he is even talking about, but he does think scientific things are grouse and sometimes funny too!

Each week he presents the hottest bits of scientific and technologial news as we hurtle towards the year 2000 and the new mellenium. The great thing is he's as dumb as you are!!

So tune in each week as The Loft sprays the millenium bug with its own special brand of super toxic, radioactive, insect repellant.
Now In Fresh Guava Fruit Scent
Bert has chosen to remain anonymous at this stage