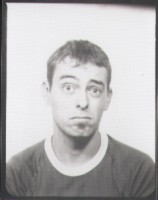 Scott Brennan

Scott was forced into performing from an early age by his sadistic stage mother, who coerced him into singing Cliff Richard songs in a sparkly bow tie and top hat at retirement homes. At the age of seven he was accepted into the Johnny Young Talent School where he studied Shakespeare and macramé, for various deep psychological reasons - he has never looked back.

The Loft offers a rare opportunity to use his macramé talents. All of the sets have been woven by Scott using hessian. He even created the other regular cast members (if you look closely they have clay eyes!)

Scott has appeared in countless TV shows and stage productions but can still be seen in a sparkly bow tie and top hat at most RSL's around Melbourne.


| | | | | |
| --- | --- | --- | --- | --- |
| Home | Ged | Scott | Matilda | Bernie |