Media Release
---
The Loft Live - Season 8
Thursdays 9.30pm - Channel 31
Commencing Febuary 17
The Loft Live, Melbourne's most exciting and unrestricted variety program returns for a huge 8th season on Thursday Feb 17.
The Loft Live, now in it's third year, is one of Channel 31's most watched and best loved programs.
Beamed live from the studios of RMITV in the city, the Loft is Melbourne's wildest, funniest and off the wall variety show. Featuring interviews, reviews, infotainment(?), live bands, hilarious segments, stand up comedy, sketches, performances, and performing dolphins (When we can get them!).
Hosted by comedian Ged Wood with support from fellow comics Scott Brennan, Matilda, and Bernie Carr with special reports from Adam Richard and Myf Warhurst. This season promises to be the best Loft season ever!
The Loft Live will continue it's tradition of producing quality television, with more gusto, less restrictions, less money and truckloads more style than the commercials.
The Loft Live. Utilising raw talent and raw energy to offer viewers a bold alternative.
9.30 Thursdays, from Feb 17.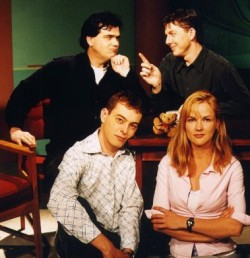 [Home]
[Watch It]
[Beat Mag]